We have won the Top Seller Europe 2023 award
On May 2, 2023, Totara Learning held its annual awards to recognize the best performing partners and the most innovative and successful implementations of Totara technology at Learning Technologies in London.We are delighted to announce that we have won the Top Europe Seller 2023 award!
Lars Hyland, Managing Director EMEA at Totara Learning: "We are delighted to recognize the growth and sales success of Actua Solutions and would like to thank the team for their hard work and commitment to our partnership".
Winning the TOP Europe Seller award is a great achievement given the high competitiveness with the network of partners in Europe that have large customers and markets. It is an award that recognizes the work of each of the employees of Actua Solutions, as the good results have been achieved thanks to the exceptional work of all departments. We will continue to celebrate excellence in learning and development.
View all awards.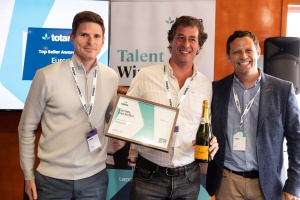 We also came in second place with the Wallbox project in the Most Impacful Project category.