Totara again Core Leader in Fosway 9-Grid for Learning Systems 2023
Totara
has again been recognized as a Core Leader in the Fosway 9-Grid report for Learning Systems 2023. This report is considered to be
the benchmark for the training technology sector in Europe
and Totara's recognition demonstrates its ongoing commitment to offering
innovative and flexible learning solutions
The Core Leader position is very privileged within the 9-Grid, competing with the major solutions in the market. In addition, each year it has been climbing positively towards the upper right quadrant.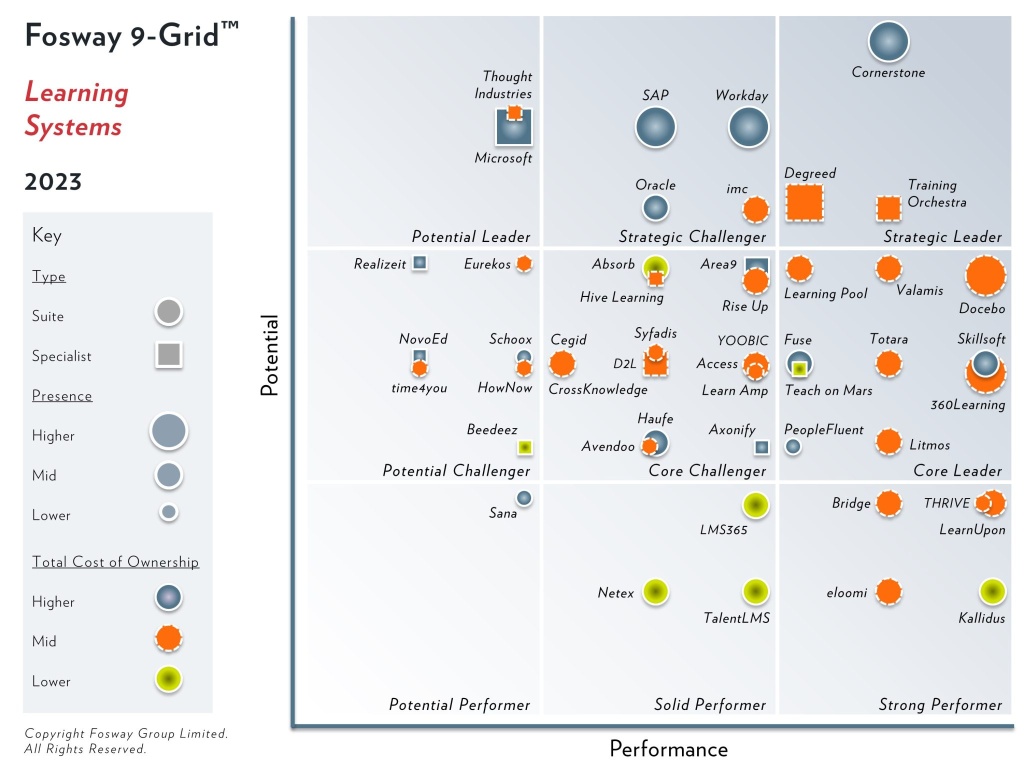 "With more than 1,400 customers and over 20 million users worldwide, Totara is fully recognized as a Core Leader in the talent and learning systems market," said Lars Hyland, Managing Director EMEA at Totara. "Our goal has always been to offer organizations a flexible, cost-effective and scalable talent development solution. This recognition is a testament to our excellent track record in terms of business success rates, customer benefits and testimonials, as well as the solution's solid performance. We believe that Totara's positioning in Fosway 9-Grid 2023 further underscores our commitment to empowering learning, engagement and performance in the workplace.
"For Actua Solutions, it is an honor to be a Platinum Partner since 2011 of a solution that offers freedom and flexibility to its customers. Moreover, Totara continues to evolve and become a benchmark for talent experience platforms" said Adriana Bertolani, Marketing Director of
Actua Solutions
.
The Fosway 9-Grid for Learning Systems report assesses the learning technologies market in the UK and European market, evaluating the leading vendors and their products based on market presence, performance, cost, potential and customer value. The 9-Grid™ is the only market analysis model used to understand the relative position of solutions and vendors in the talent and learning systems market. The report is based on extensive research and analysis including interviews with customers and end-users, as well as an in-depth evaluation of each vendor's offering.Totara's recognition as a Core Leader in Fosway 9-Grid 2023 demonstrates its ability to deliver value to customers through a talent experience platform. comprehensive and flexible. This designation reflects Totara's commitment to providing organizations with a solution that responds to their changing needs and enables them to improve their business results. Have you found your elearning platform on the Fosway 9-Grid? About Totara
Totara offers the world's most flexible learning and performance platform for the corporate sector. Totara Talent Experience Platform is an elearning solution comprising three platforms that combine to ensure that employees learn, participate and perform to their full potential.About Fosway Group
Fosway Group is the leading analyst of the PR sector. HH. number 1 in Europe, and its 9-Grid for Learning Systems report is considered the industry benchmark for European learning technology. The report provides a unique and unbiased view of the market, and helps organizations make informed decisions about their investments in learning technologies.