Manolo Bakes relaunches its elearning platform to develop the company's aMBassadors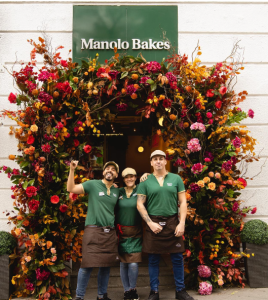 The company implements the Learning Hub, the new online training platform, in just 2 months. only 2 months.
The partnership with Actua has been key to the success of the implementation.
"The company, a success story in the Coffee & Pastry Shops category, has teamed up with Actua as an elearning partner to implement its new training space. Renata Lovallo, director of the Training, Culture and Talent department at Manolo Bakes, pointed out that thanks to this partnership they have developed the Learning Hub platform, a solution designed to meet the training needs of operational teams throughout Spain, with great speed and efficiency.
The training director of Manolo Bakes commented on the objectives of creating a new learning space for the company, highlighting that it was necessary to offer a new learning space for the company. more visual and user-friendly user experienceThe company has also developed a new system of training and development, with specific learning and development paths for the position, and has reduced administrative management to operations managers.
Renata Lovallo also pointed out that she needed to have more detailed and very visual metrics that would help the store and bakery manager to comply with the KPIs of the mandatory training required in the sector, specifically with regard to the handler. In addition to the company's interest in evaluating the quality and effectiveness of the onboarding and on-the-job training processes in each work center.
As a final goal, Manolo Bakes pointed out that the new, more intuitive design will allow them to improve adoption by the group of managers most affected by the digital divide. The company has highlighted Actua's extensive experience in the implementation of global learning ecosystems and the professionalism of its team, without which such a rapid and successful implementation would not have been possible.
With the support of the implementation team, Manolo Bakes has been able to create the Learnign Hub in only 2 monthsThe company has been able to exceed the first month's access rate of the more than 500 eMBajadores that make up the team, and to resolve incidents quickly and efficiently with the support team.
Your success is our success! If you would like to learn more about how Actua can enhance your organization's digital learning journey, or if you are interested in exploring partnerships, please do not hesitate to contact us. We are here to help you reach and exceed your goals. Join us on this exciting journey of digital and formative transformation, and discover the power of innovative education!