Actua at Talent Day 2023 – The Challenge of Innovation in L&D in Organizations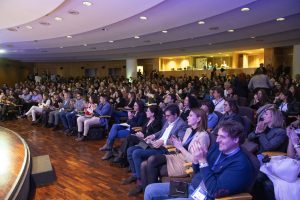 This November 15th, we are proud to participate in the
Talent Day 2023 in Barcelona an event that has established itself as a key meeting point for professionals and companies that are building the future of people at work.
A day full of exchange of ideas and knowledge awaits us, where we will have the honor of moderating a round table entitled. "The Challenge of Innovation in Training and Development in Organizations", exploring creative strategies to enhance growth through learning.
This dialogue will feature leading voices in the field of innovation and the development of people in organizations, such as Iván BofarullChief Innovation Officer at ESADE; Ester Cusiné, Director of the People Department of GRUP PYRÉNÉES, and Mireia Segura, Director of People & Development at ALLIANZ, all moderated by Alex Vickers, Head of Sales at Actua. This meeting will be a unique opportunity to share perspectives, challenges and solutions in Training and Development in organizations
This space will address the latest trends and the most effective strategies to promote learning that not only informs, but also transforms. Through our experience, we will show how technology and innovative approaches to learning can converge to create meaningful experiences that drive people and organizations forward.
Talent Day is not only a showcase for us, but an opportunity to learn and nurture collective knowledge. Interaction with other leaders and experts is vital to enrich our vision and continuously improve the solutions we offer.
At Talent Day, we will share the results of the survey on the reality of companies in Spain: the priorities of the L&D teams and their effectiveness, the use of of technology to foster social and collaborative learningthe Upskilling & Reskilling and all approaches that can be integrated into more personalized and effective learning strategies.
See you in Barcelona, ready to learn, inspire and co-create the future of learning. Because when people grow, organizations thrive.